This Pumpkin Spice Cake is everything you love about pumpkin desserts — it is perfectly cinnamon-y and pumpkin spiced, it is wonderfully moist, and it is topped with a heavenly cream cheese glaze. Believe it. Then try it.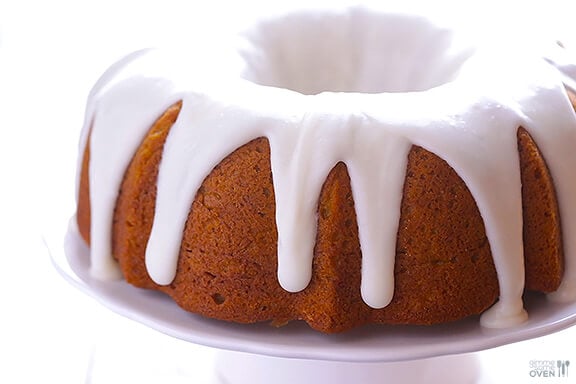 I used to start baking with pumpkin in October.
Then last year it inched into mid-September.
But this year, as soon as the calendar flipped to September 1, I marched into the grocery store and bought a dozen cans of pumpkin. Call me eager, call me impatient, call me paranoid about a pumpkin shortage (after 2 years ago), or call me brilliant.
The simple truth is — I love pumpkin!!!
And what better way to kick off the season this year than with this delicious Pumpkin Spice Cake.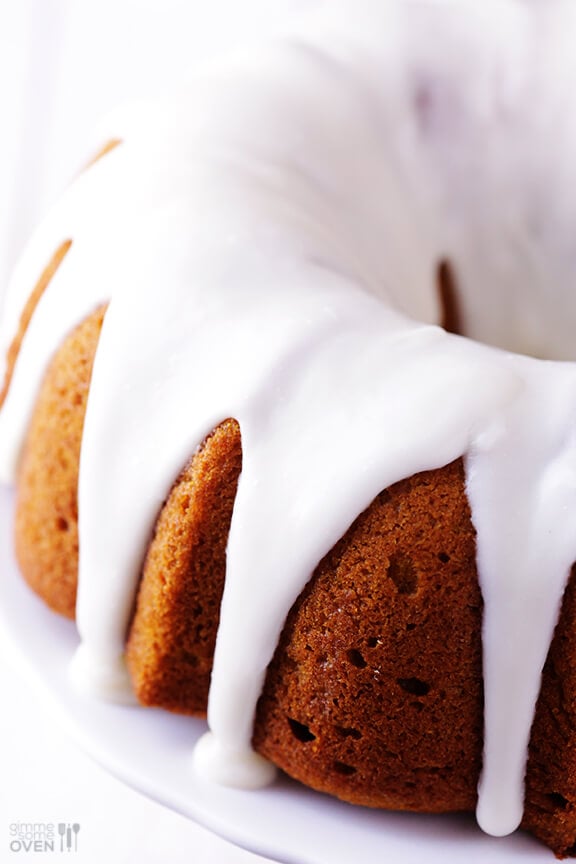 This cake reminded me of all the many things I adore about baking with pumpkin. Shall I make a list?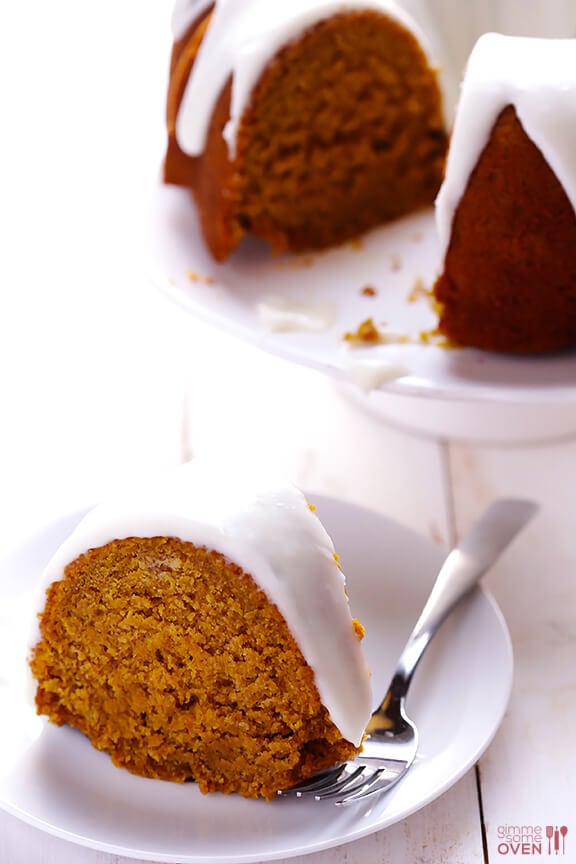 1) Minutes after going in the oven, my house started to smell a-mazing.
You know how everyone is Instagramming their favorite pumpkin spice candles right now? Yeah, I own a few of those too. But none compare to the heavenly smell of a pumpkin bundt cake slowly baking in your oven. And then that same smell lingering for days to come. It's the best!!!
2) Taste-testers appear from nowhere!
Speaking of Instagram, when I posed a photo of this cake fresh out of the oven, my phone filled up with a record number of offers for taste-testing. I forgot how even the pickiest of eaters absolutely adore all things pumpkin. It's a good thing that I ended up making this cake twice for taste-testing, because there was a line!!
3) Pumpkin instantly makes it feel like Fall.
We may be in the middle of a ridiculous 100+ degree heat wave. And my air conditioner may have decided to break down and take two days (twooooo dayyyyyys) to fix, making it nearly possible to bake this cake in the "oven" that is my loft. And freaking pumpkins may have not hit the stores yet, causing me to pull out some old decor from storage for this photo shoot. (Yeah, don't look too closely, although now I'm sure you will — the Hobby Lobby special!) But regardless of it all, taking a first bite of this pumpkin spice cake made the world instantly feel like September and Fall and all of the cozy memories the season brings. Love it.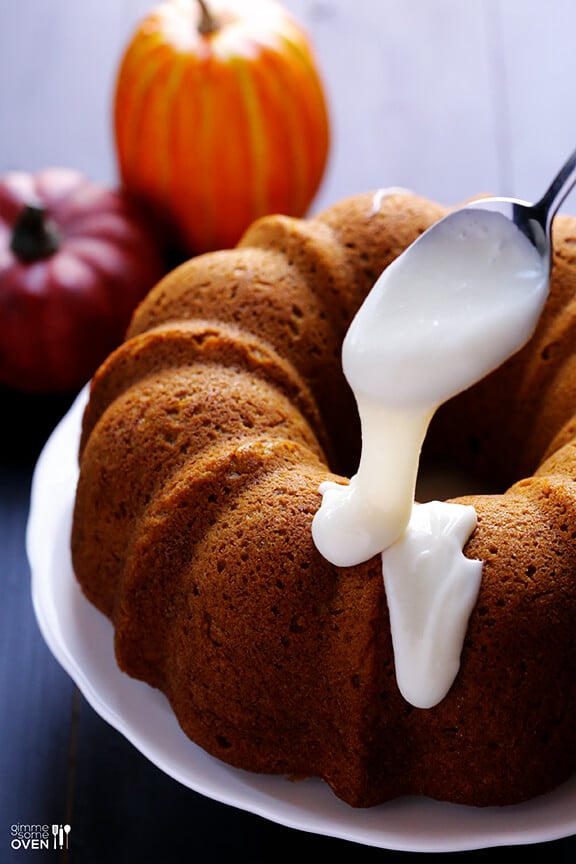 So if you're ready for a delicious recipe to kick off your pumpkin baking season, or if you're just ready to enjoy a fabulous pumpkin bundt cake any time of the year, this cake has my full pumpkin-loving recommendation.
Cheers to a great season ahead!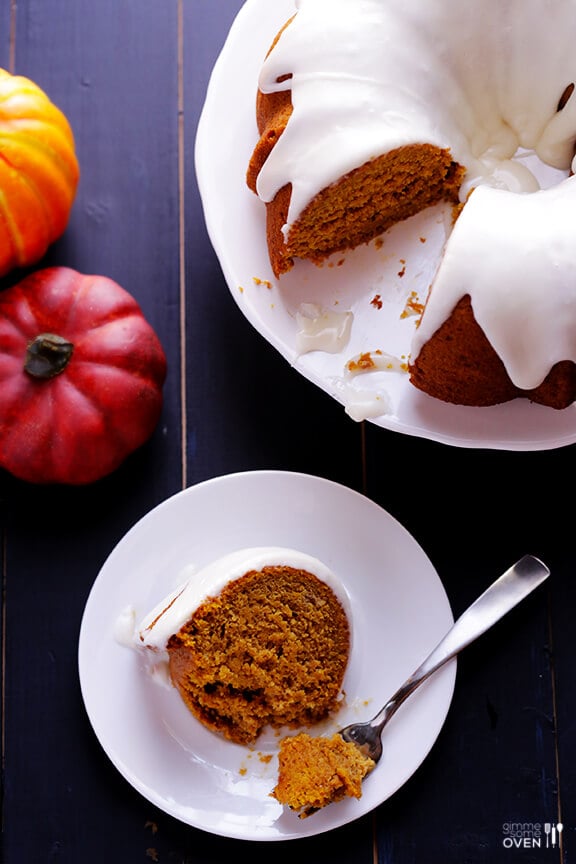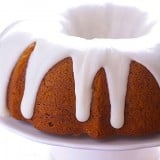 PRINT RECIPE
5
5 / 5 (1 Reviews)
Did you make this recipe?
LEAVE A REVIEW »
YIELD: 12-16 SERVINGS
PUMPKIN SPICE CAKE
This delicious pumpkin spice cake is topped with a rich cream cheese glaze that will have you cheering for pumpkin!
TOTAL TIME: 1 HOUR
PREP TIME: 10 MINS
COOK TIME: 50 MINS
INGREDIENTS:
PUMPKIN SPICE CAKE INGREDIENTS:
1 cup (2 sticks) butter, softened
2 1/2 cups all-purpose flour plus additional for dusting pan
2 tsp. baking powder
1 tsp. baking soda
2 tsp. cinnamon
1/2 tsp. ground nutmeg
1/2 tsp. ground ginger
1/4 tsp. ground cloves (optional)
1/2 tsp. salt
1 (15 oz.) can pumpkin puree
3/4 cup well-shaken buttermilk
1 tsp. vanilla extract
1 1/4 cups granulated sugar
3 large eggs
CREAM CHEESE GLAZE INGREDIENTS:
4 ounces cream cheese, softened
1/4 tsp. vanilla extract
1 cup powdered sugar (plus extra if needed)
1-2 Tbsp. milk
DIRECTIONS:
TO MAKE THE PUMPKIN SPICE CAKE:
Preheat oven to 350°F. Grease a bundt pan with cooking spray or butter, then sprinkle the entire surface with flour (or granulated sugar) and shake off the excess.
In a large bowl, whisk together flour, baking powder, baking soda, cinnamon, nutmeg, ginger, cloves (optional), and salt until combined. Then in a separate bowl, stir together pumpkin, buttermilk and vanilla until combined.
Using an electric mixer, beat butter and granulated sugar on medium-high speed until pale and fluffy, about 3 minutes. Add eggs and beat 1 minute, using a rubber spatula to scrape the bottom of the bowl so that everything is combined. Reduce speed to low and add flour and pumpkin mixtures alternately in batches, beginning and ending with flour mixture and mixing until batter is just smooth. Do not overbeat.
Transfer batter into pan, and smooth the top of the batter with a spatula so that it is smooth. Bake until a wooden pick or skewer inserted in center of cake comes out clean, 45 to 50 minutes. Cool cake in pan on a cooking rack for at least 20 minutes. Then invert cake onto a cooling rack or a cake platter. Top with cream cheese glaze when cooled, or dust with powdered sugar.
TO MAKE THE CREAM CHEESE GLAZE:
Using an electric mixer, beat the cream cheese, vanilla, and powdered sugar together on medium low speed until combined. Add milk one tablespoon at a time, beating to combine, until the glaze reaches your desired consistency. If the glaze gets too thin, add in more powdered sugar.
DIFFICULTY: EASY INGREDIENTS: BAKING POWDER, BAKING SODA, BUTTER, BUTTERMILK, CINNAMON, CREAM CHEESE, FLOUR, GINGER, GRANULATED SUGAR, MILK, NUTMEG, PUMPKIN PUREE, VANILLA EXTRACT
Pumpkin cake recipe adapted from Whipped http://whippedtheblog.com/2007/10/31/super-moist-pumpkin-buttermilk-bundt-cake/.
All images and text ©Gimme Some Oven
If you make this recipe, be sure to snap a photo and hashtag it #GIMMESOMEOVEN. I'd love to see what you cook!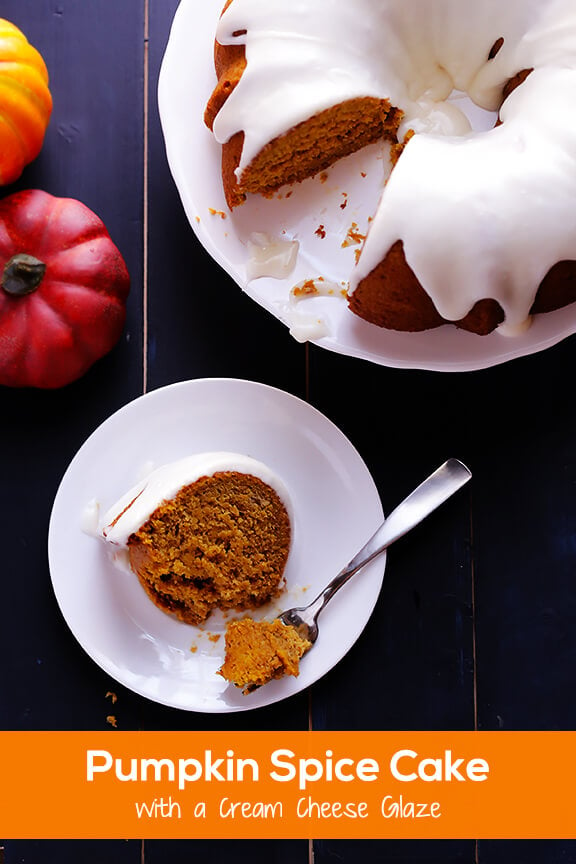 POSTED ON SEPTEMBER 10, 2013 IN DESSERTS
64 COMMENTS »
SHARE THIS POST
49729.4K161
YOU MAY ALSO LIKE…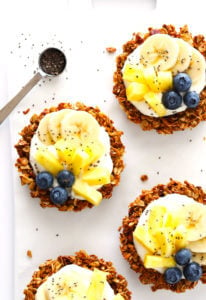 64 COMMENTS ON "PUMPKIN SPICE CAKE"
« PREVIOUS 1 2
PAM — REPLY

Hi Ali – I'm working on a Thanksgiving dessert recipe roundup for my blog and I'd love to include your Pumpkin Spice Cake. (You can see an example of one of my roundups here:http://www.leavesandstitches.com/weekend-pinspiration-shade-garden/). Would you mind if I include your recipe? I'd include your photo and a link back to your post.

Thanks so much!

KATIE MARTIN — REPLY

How do you make your frosting look so perfect and beautiful?! I'm impressed. I am making a bundt cake tonight and trying to figure out how to frost it with the cream cheese icing recipe I have, or if I even should ice it at all.

ALI —

I honestly just use a kitchen spoon to spread it around! But you can also buy all sorts of cake decorating spatulas to help.

MELISSA SODEN — REPLY

I am making this for our Volleyball Banquet today. Very excited to share. Using fresh pumpkin. Hope it turns out. I do strain it for a while so it is not too runny. Wish me luck.

ALI —

Hope it turns out well! Enjoy!

Pingback: Kürbis-Gewürz-Kuchen – zuckerstaub.at

DEESKIS — REPLY

Well I tried this recipe. It's great IF it was a recipe for pumpkin bread. Not nearly sweet enough for a cake. Luckily I tasted the crumbs in the pan after flipping it and discovered the problem. Tossed the cake (happy Squirrels) and using another recipe.

SC30 — REPLY

I made this yesterday for a family dinner gathering and got rave reviews on both how aesthetically appealing it was and how tasty it was! The frosting added the perfect amount of sweetness. A perfect dessert for the season

5
« PREVIOUS 1 2
LEAVE A COMMENT »
« PREVIOUS POST
NEXT POST »
HEY, I'M ALI!
My favorite thing in the world is spending time around the table with good people and good food. So I created this blog full of simple, speedy, and irresistibly delicious recipes that are perfect for sharing with those you love. ♥ MORE ABOUT ME »
SUBSCRIBE VIA EMAIL:
MY LATEST VIDEOS